LLC "Warehouse TFC" KAMAZ "
LLC STFK KAMAZ is the largest supplier of KamAZ spare parts. Spare parts are sold to all regions of the Russian Federation at prices of the KAMAZ dealer. The nomenclature includes more than 15,000 items, including only original spare parts manufactured by KAMAZ OJSC, manufacturing of allied manufacturing plants and large import manufacturers.
Phone

(8552) 53-47-47, 53-47-23, 53-47-24, 53-47-25

Address

433800, Russian Federation, Republic of Tatarstan, Naberezhnye Chelny, Reserve Passage, 43/18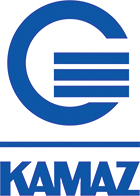 AUTOMOTORS
"AUTOMOTORS" - the largest supplier of auto parts KAMAZ, successfully operating since 1992. At present, AUTOMOTORS is a dynamically developing company providing the most comprehensive range of services for customers and favorable terms of cooperation.
Phone

+7 (8552) 20-25-55 многоканальный

Address

Russia, Republic of Tatarstan, Naberezhnye Chelny, Menzelinsky tract, 36/2

E-mail

mail@auto-motors.ru